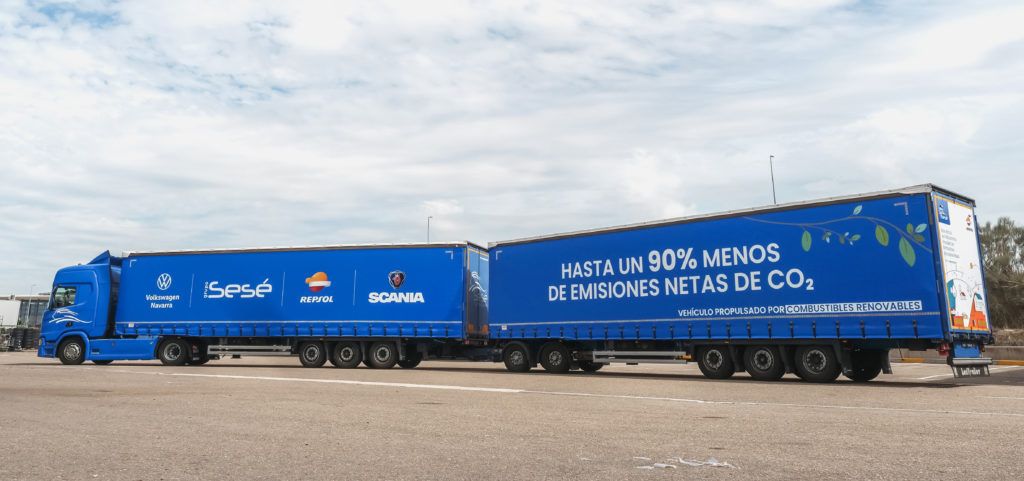 Sesé, Repsol, Volkswagen Navarra and Scania put the first duotrailer powered by renewable fuel into circulation
It is now the most sustainable long-distance heavy goods vehicle in Spain and southern Europe
It will travel 4,500 kilometres per week between Pamplona and Barcelona, and it will reduce the net CO2 emissions for each journey by up to 90%, thanks to the renewable fuel supplied by Repsol
Sesé was already a pioneer, having implemented the first duotrailer in Spain in 2018
Zaragoza, 23rd March 2023. Sesé, Repsol, Volkswagen Navarra and Scania are promoting the first duotrailer in Spain to be powered by renewable fuel that allows the net CO2 emissions for each journey to be reduced by up to 90%. This makes Sesé the first company to promote this type of vehicle in Spain and southern Europe, and reaffirms its commitment to the decarbonisation of goods transportation.
The vehicle will travel 4,500 kilometres a week in total between Pamplona and Barcelona, thus avoiding the emission of approximately 4,5 tonnes of CO2. So far, tests have been carried out on tractor units with a single semi-trailer using this advanced biofuel. These vehicles have travelled more than 550,000 kilometres over a period of months, demonstrating reliable results with no incidents.
The renewable fuel is produced from waste such as used vegetable oils, agricultural and forestry waste. It also has the sustainability certifications required by the European Union's Renewable Energy Directive, and it meets all the technical requirements that guarantee its use in vehicles, without the need for any modifications.
Inovation and sustainability
Finding efficient, sustainable and innovative supply chain solutions is one of Sesé's top priorities, as it seeks to become an emission neutral company by 2050. As part of this commitment, Sesé was a pioneer in introducing the duotrailer for the first time in Spain in 2018. This is the largest, most efficient goods distribution vehicle in Europe, with a total length of 31.7 metres, and two 13.60-metre trailers which also support intermodality with rail transport.
The duotrailer is a vehicle which is designed to travel on high-capacity roads, reducing the number of lorries travelling on conventional roads, where the highest accident rates are located. Sesé currently has 4 duotrailers in its fleet, which cover an average of 600,000 kilometres per year and reduce total emissions by 30%.
Scania has been working with renewable fuels in central and northern European countries for many years. Scania vehicles are equipped to use alternative fuels, and they are a real option for transportation. This project represents one more step towards Scania's decarbonisation targets (Scania Science Based Targets), which include a commitment to a 20% reduction in the CO2 emissions produced by the vehicles it sells in 2025, compared to the CO2 emissions of the vehicles it sold in 2015.